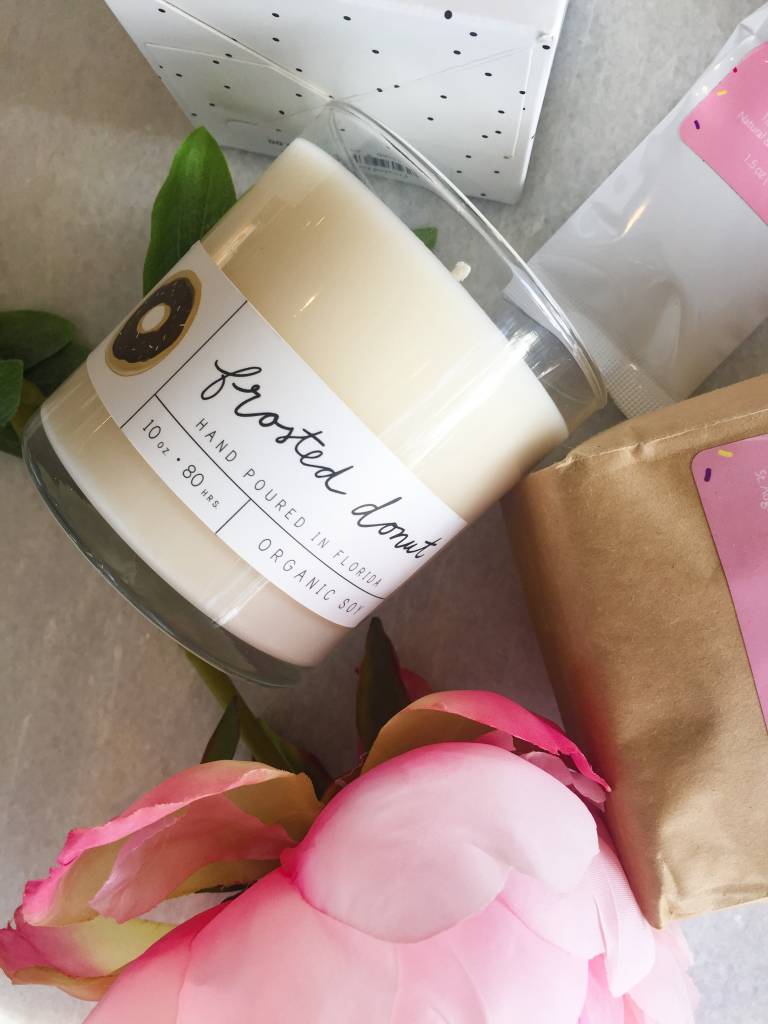 New Product | Frosted Donut Candle
Once upon a time, I wrapped up a gift for a very sweet Saint Augustine couple.  Naturally, us Declaration Dolls get giddy with excitement over gift giving. While wrapping, the customer shared with me that she nostalgically loved candles. They remind her of her childhood, and of her mom lighting them- especially after a deep clean or when they were expecting company. After double checking that this person wasn't my sister, I realized that this was the exact same reason for my candle obsession.
Nothing gets the inspiration going like a sweet candle.
We are always experimenting with new ideas, which is part of what makes this job so amazing.
Our favorite days are when Lara shows us designs that she's working on, or oils she's picked out for scents. When I first smelled this scent, my mouth watered.
Not only is Lara's Frosted Donut design just the cutest, this candle has converted me to a sweet candle scent lover. It's got a sweet vanilla scent that isn't overpowering and won't take over a space. I've personally burned plenty of warm scented candles that are too strong and make me nauseous, but this one is just subtly sweet enough to burn on your kitchen counter on a Sunday morning. Beware of hungry family members, you'll have everyone asking what's baking!
Let's talk Declaration candles.
Our regular sized candles are 10 ounces in volume and burn a collective 80 hours of deliciousness into your homes. (Though we don't recommend burning them for more than 4 hours at a time). They're made of organic soy, which is known to trigger less allergies and burn longer than your usual paraffin candles. (And generally distribute the smell better). We currently carry 9 different regular sized candles, including our seasonal and limited edition scents. If you're looking for an all local product, our candles are hand poured and packaged in Jacksonville Florida- shortly after being hand picked and designed by Lara in St. Augustine.
The design of our candle packaging is the perfect mix of clean and simple with a pop of color. If you're as crazy in love with home decor as I am, they'll look just as good as they smell in your space.
As for our new Frosted Donut candle, it's the perfect gift for someone especially sweet and is adorable paired with a bag of our Sprinkled Donut Coffee or Coffee Run hat, because who doesn't love donuts & coffee?
Have any of you tried our candles? Which is your favorite! If not, let me know which one you've got your eye on!
XO,
Jess