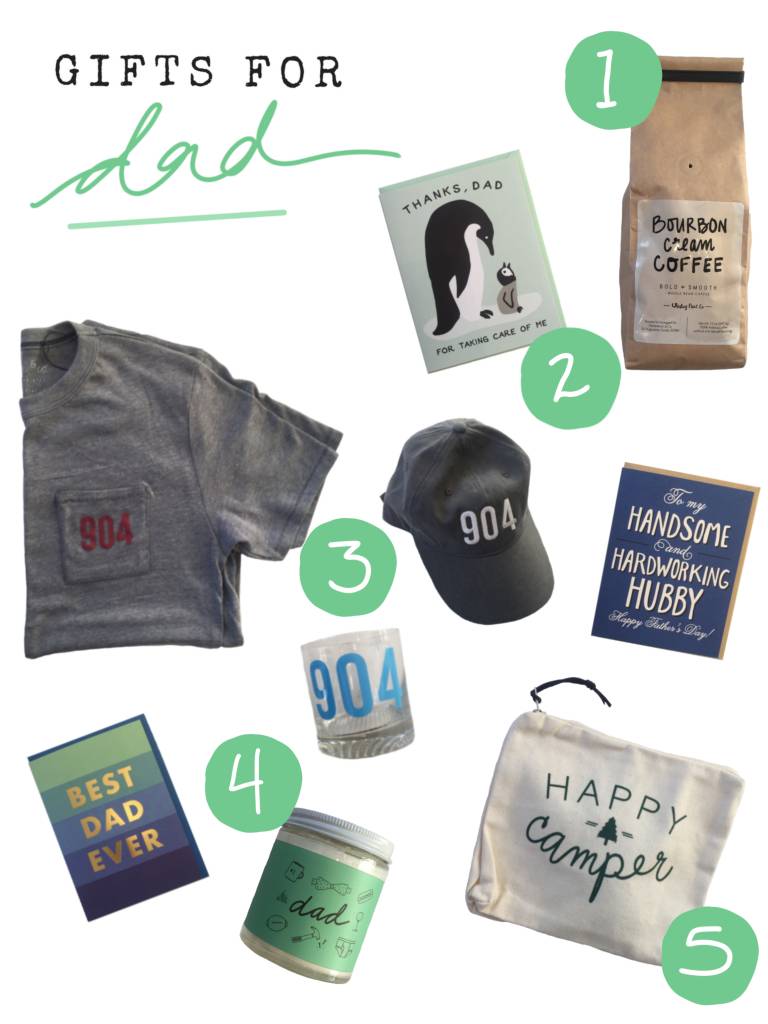 Father's Day Gift Guide
This month we took extra time to spoil the Mamas in our lives, next up is Dad's turn!
Mark your calendars! Father's Day is Sunday June 17th. 
I've put together a handful of goodies for any Dad in your life, because if I know anything about Dads it's that they don't really need anything, but deserve everything.
No. 1
Early Bird Dad
For the coffee, bourbon, or coffee AND bourbon connoisseur in your life. There's nothing like freshly ground coffee to start their morning off right.
No.2
The Sentimental Dad
Just like on Mother's Day, I had to show you some of my favorite cards in the shop. For the dad who is hard to shop for, or any Dad, telling them how much they mean to you is the greatest gift.
No. 3
The Supportive Dad
904 Tee- My future father in law loves sporting his Florida Tees up North, even getting two of the same design. (You can never be too careful!) I love getting him Declaration Tees because of their good quality, comfortable feel, designs by Lara, and awesome fit. Besides, nothing's more supportive of your favorite sunshine state then supporting locally!
904 Rocks Glass- Not exclusively for dads, get a pair to share!  Perfect for the Dads in your life that can appreciate a good drink.
904 Hat- The coziest hat you will definitely end up keeping for yourself.
Shop his new favorite hat here.
No. 4
The Chill Dad
For the guys in our lives that love to sit back with a book and relax, a cool candle to light on their down time will do the trick. Our mini "Dad" candle is the perfect mix of masculine and clean. Shop our Dad mini candle here.
No.5
The Organized (or UNorganized) Dad
We all know a Dad in our lives that could tell you the life story of every tool in their garage. In my uncle's case, he's also a big fan of camping. This Happy Camper pouch is perfect for days he's bringing his tools beyond the garage (much safer than his usually plastic baggy), or for the little things on a big camping trip.
Shop our happy camper pouch here.
Here's to all of the Dads out there- for all of the punny jokes, voices of reason, group hugs, life lessons, and support like no other.
Be sure to give the Dads in your life the biggest hugs today and everyday!
And stop by the shops, or shop online, for gifts they'll love.
XO,
Jess