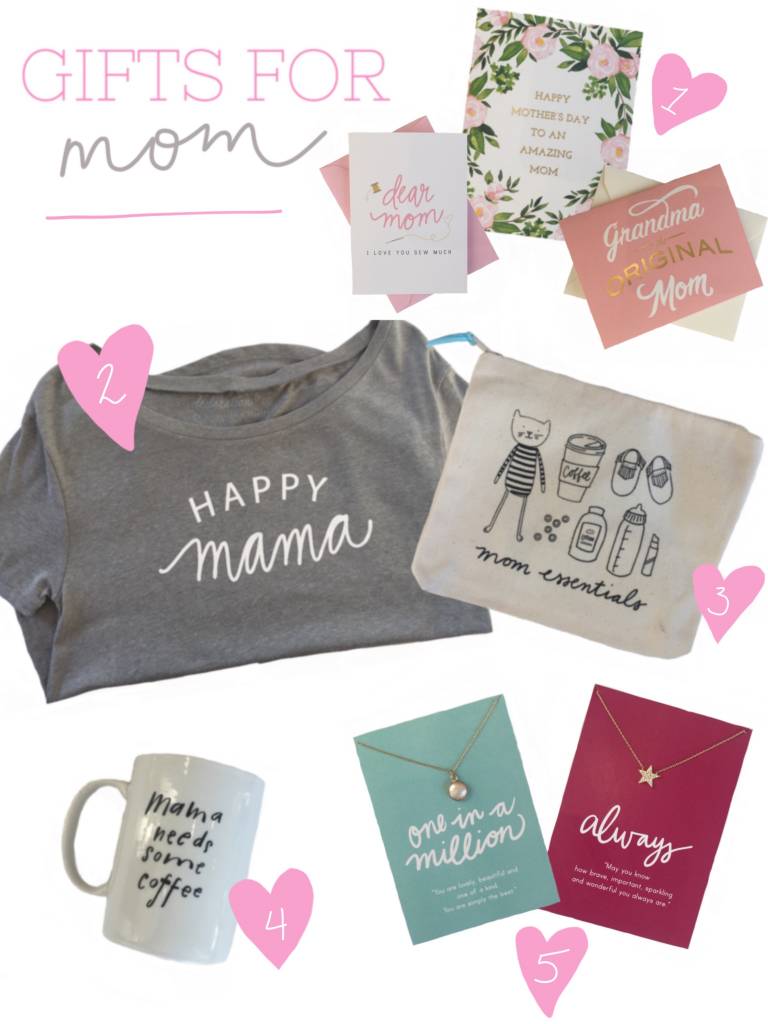 Mother's Day Gift Guide
With Mother's Day just around the corner, many of us are starting to scramble for gifts.
Have no fear- I've packed a few tricks up my sleeve in both gift giving and Mother-having to help you out.
I'm not yet a mother myself, but I'm lucky enough to be surrounded by plenty of amazing mothers. From them, I've learned many things but one for sure- they don't usually treat themselves. I love gift giving holidays to remind the Moms in my life that they are appreciated and deserve some THEM time. They're probably too modest to ask for anything, so here are a handful of gifts any mom would love.
No.1
For the sentimental mom
I'm clearly a fan of words. I love expressing myself in writing, and have been accused of 'hogging' cards when it comes to special occasions. I adore cute cards with simple messages on the outside, and plenty of room on the inside for writing what I'm feeling and how much I'm grateful for the gift receiver. There's something about taking the time to find a card and put a thoughtful note inside that is such a sweet sentiment. Here are a couple of my favorites in the shop right now.
No.2
For the new mom
All mamas want to show off their love for their babies, no matter how old. But especially when we're talking new moms. Getting a gift for the new mama in your life that is just for her- while celebrating this new adventure in her life- is easy with a cute & comfy tee. This loose fitting Happy Mama tee was designed by Lara with all the Declaration Moms in mind!
No. 3
For the organized Mom
I'm a sucker for a pouch. Anything to keep organization in my chaos of a bag is key, even as an Aunt. Our D&Co pouches fit SO many different things that it's a whole post in itself, so trust me when I say it'll save a Mama or two from fumbling through a never ending diaper bag.
No.4
For the busy mom
Every holiday for the past lifetime, my sister asks for a mug. She's collected a lot from me alone over time, but I can't blame her. Mugs are a way of giving something cute and quirky while also giving them the blissful moment of a sip of coffee on a crazy morning, holding warm tea after a long day, or a relaxed weekend pick me up. Whether you're adding to their collection or sneaking them a moment of peace, mugs are always a good idea.
No. 5
For the stylish mom
Speaking of sweet sentiments- our quote necklaces are perfect for our jewelry loving mamas, and come packaged with sweet quotes for any occasion. A card and gift all in one!
Shop all quote necklaces here.
Don't forget to tell the moms in your life this Mother's Day, and every day, how much they mean to you.
And to all the mamas out there- thank you for your undying love, support, kindness, and strength.
Here's to strong women. May we know them. May we be them. May we raise them.
How do you love to spoil the Mamas in your life? Let us know in the comments down below!
Don't forget you can order your favorite gifts online or by shooting us a text.
XO, Jess