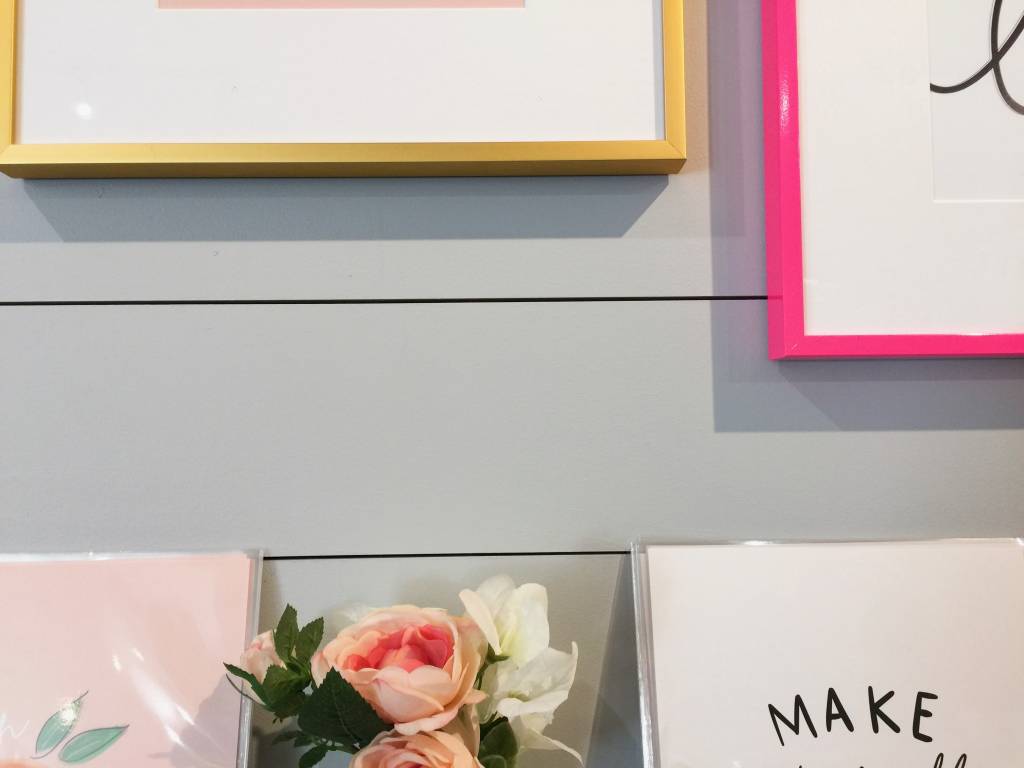 DIY Gallery Wall
Hello, gallery wall!
Nothing says spring cleaning like a home décor project. This week, I'm sharing tips with you guys for my all-time favorite home décor DIY- the gallery wall. Inspired by our all new prints!
We've recently introduced over 15 NEW, designed by Lara 8x10 prints to bring that Declaration flare to your personal space.
Before I jump in, let's break down these prints and the new options we've got to offer.
Lara planning out our new prints!
Customize your favorite print with…
White, Black, Gold, or Pink frame

White Matte option
Here's what you need to know:
Please allow us one week lead time, to get your order just right for your home

Custom orders- Order in store, pick up in 1 week!

Available to order online here!

Pricing-

8x10 Print $12

8x10 Framed Print $65

8x10 Framed Print + Matte $85
As a professional gallery wall enthusiast, I've 1) Hung up plenty in my home and 2) Spent countless hours swoon on Pinterest. Needless to say, I've picked up a few tips.
PINteresting
Speaking of Pinterest. Pin a couple of your favorite gallery walls for inspiration. This will help get those creative juices flowing, and inspire you, and stop you from starting from absolute scratch and nailing a bunch of holes in the wall for fun.
Themes & Color Schemes
Whether it be a color scheme or theme, it's good to have a general idea of what moment you'd like to create. Make sure the art flows with your overall home décor. Once you find a piece or two that you love, ideas will come to you on what you need next.
All the right things in all the right places
When I hung up my first gallery wall, I wanted to get it all done at once. I found that taking my time finding the right pieces made for a display with character and a much more personal touch. If you get a piece you find yourself not using in the gallery wall, save it for another spot in your home. Few things are as creatively satisfying than when it all comes together in the end, trust me!
Mix & Match
If playing around with art is all the fun, getting creative with frames is half of it! I had a phase where mixing metals in a space was cringe worthy. Shortly after, I realized all the options for displaying prints & pieces out in the world! Now you can even catch me wearing gold and silver rings…at the SAME TIME!
Map them out
The last and best advice I can give you, which sounds so simple, is to map out what you're going to hang and where.
It might be common sense to most, but when I started my first gallery wall I was ready to just nail holes into our *rental* walls. Yikes! Shout out to my mom for stopping me and giving me this (and many) life lessons.
Once you have all the pieces you want framed and ready, map them out on the ground to see which way they flow together best. You can then use painter's tape on your wall to map out spacing and give yourself a realistic idea of the finished product, no nails required.
Gallery walls are perfect for any blank wall you'd like to hang a collection of cute things on. Big or small, each display is unique to you and that's what makes them so much fun.
In the end…
Fun projects like this aren't permanent. Don't take it too seriously and your end result will be beautiful. Trust yourself!
That's all from me, I hope you're all inspired to spice up the walls in your space as much as I am.
Let us know in the comments down below where you like to create a gallery wall- whether your living room, nursery, office, anywhere! We'd love to hear it and get inspired by YOU!
Don't forget to check out our NEW, Designed by Lara, 8x10 prints. Available in store at both locations and now online! And as always, feel free to text or call us to shop what you see on our Instagram feed!
 
Happy DIY-ing!
XO, Jess